Sometimes people are hesitant about bringing their old jewellery in for recycling because they don't really understand how it works. How do they know what they have, and what is it worth? Once it's melted, what will it look like? Is it even worth melting to start with? Not knowing the answers to these questions can make people procrastinate, and their old, unwanted jewellery gathers dust instead of moving on to a brighter new existence as a custom-made piece of jewellery.
Often people can't tell the difference between the different types of gold; what makes white gold white; what karat means; what's "good as gold" and what's some random metal. That's okay; no one expects you to be a metallurgist! But it's good to have enough knowledge to feel confident when you're thinking of turning your old gold into new treasure.
In this post, I'll talk a little about the different kinds of metals, the types I prefer to work with and what you need to know in order to turn your inherited or less-beloved jewellery into something you just can't wait to wear.
Taking the Measure of Gold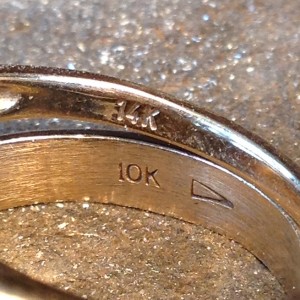 The purity of gold is measured in karats, with 24 karats meaning the item is pure gold. You don't see 24 karat gold as often as you might if it were a harder or less expensive metal: instead, you'll see 22, 18, 14 or 10 karats. Gold is marked in the metal with a tiny kt stamp, usually in a less-evident spot, like on the inside of a ring band. On a necklace, you'll usually find it on the clasp, and again on any separate element, like a pendant. The pendant and the chain may have different percentages of gold, so each element should be marked. Depending on the maker, you may also see another stamp, the trademark, which acts as a sort of maker's signature. When you visit the shop with your gold I'll take a look at each piece using my magnifying loop to identify the kt stamp of each piece.
Filled Gold
Items in "filled gold" are made of another metal that's then been coated with a thin layer of the precious metal. When you bring in old chains for recycling, it's important for me to make sure they are not "filled" before adding them to other gold pieces. I'll look for karat marks and also look at the piece: an easily identifiable quality of filled gold is that the outer layer of gold is so thin, it doesn't take too much time for it to wear away. Filled pieces will show the wear.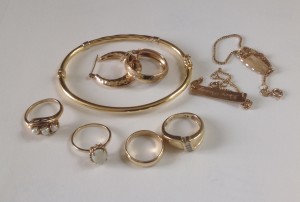 If these base metals are melted into gold, they ruin the gold. But you don't have to worry: if you believe a piece is true gold but isn't identifiable with a kt stamp, I will melt it separately and take a good look at it before adding it to any trademarked gold.
So, the karat numbers tell you the proportion of gold to other metals making up the piece. 18 karat gold is 75% gold and 25% other metals, which might be silver and copper, nickel or palladium. To find out how much gold a piece contains, find the karat mark and divide the number by 24. (18/24=.75.)
Gold Colours
The amount and type of other metals in the gold determine its colour. 18 karat yellow gold is a blend (alloy) of pure gold, sterling silver and copper. If you've ever seen the pinkish gold called "rose gold," you've seen pure gold with copper added. Copper gives the gold a warmer hue. Adding only silver to gold gives this alloy a green tint, and is called (fittingly enough) green gold.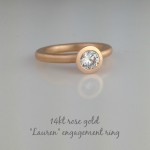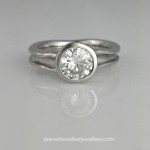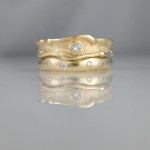 Most of the time, customers bring in 10, 14, 18 and 22 karat yellow gold for recycling. Unfortunately I am unable to change the colour of the metal you provide. For example I cannot change your yellow gold into white gold.
Interested in reusing your unworn, outdated vintage or heirloom jewellery to create a new meaningful piece? Click on the button below to get started. I look forward to hearing from you!