Jeanette Walker has been in the forefront of the slow sustainable jewellery movement since 2004, using recycled gold and responsibly mined stones wherever possible in her work. We take pride in making everything from start to finish, handcrafted in our studio, on Prince Edward Island, Canada.
Stones
Jeanette Walker Jewellery uses recycled gemstones from her client's unused jewellery and is also proud to be working with the best source of ethically mined, traceable and recycled stones. We'll source the best stone to meet your desires and budget.
Recycled metals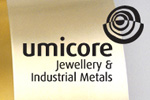 Jeanette Walker Jewellery uses recycled metals from either her clients' unused jewelry, Umicore or HL Casting (both Toronto based companies). Umicore is one of the largest recycling companies in the world. It was ranked number one in Global 100 Most Sustainable Companies in the World Index. It is a great partner in a shared mission of responsibility and ethics.