Breathe New Life Into Old Jewellery
Do you have inherited or vintage pieces sitting neglected in a box?
We'll transform your old gold and gemstones into a fresh new jewellery redesign you'll love to wear.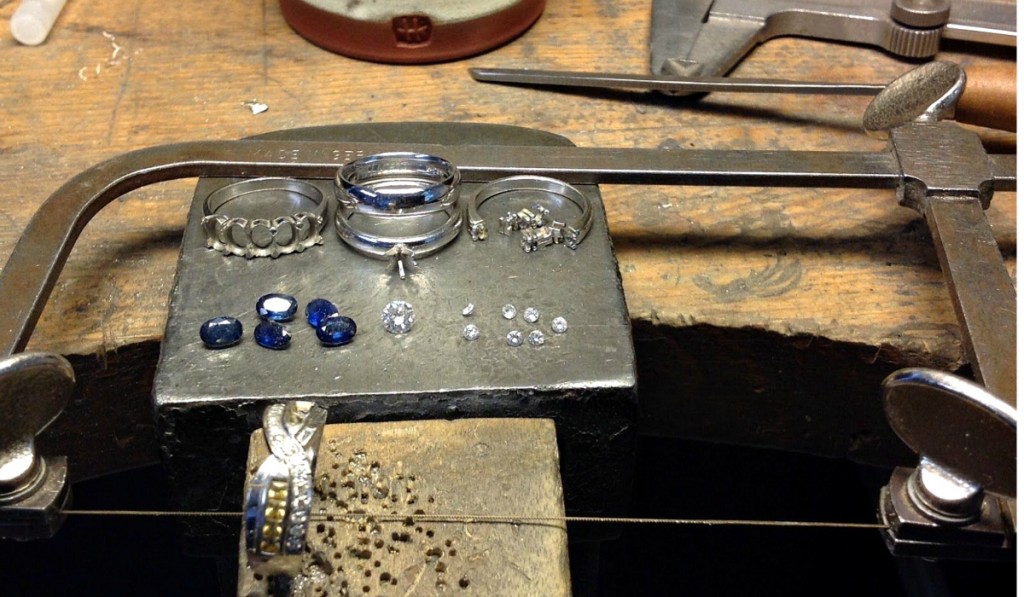 Preserve its sentimental value.
Custom jewellery is highly symbolic and emotional. Reusing old gold and gemstones to create new more fitting pieces, is a way to honour the past while living in the present.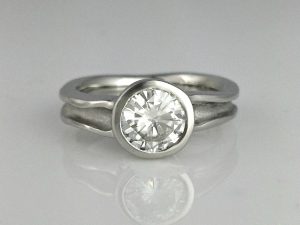 Repurpose your Grandmother's diamond engagement ring into an elegant and uniquely personal one for your fiancee, showcasing the old-fashioned, rose-cut diamond.
Meltdown the gold from long-married parents' or grandparents' worn-thin wedding bands to make new ones for your upcoming marriage.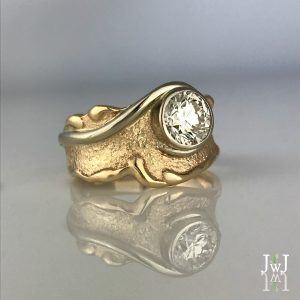 Redesign your wedding set into a new right-hand ring once you feel ready to signify and create closure after the loss of a spouse or divorce.
Commemorate a milestone anniversary by redesigning your original wedding rings to better suit your current design sense and lifestyle.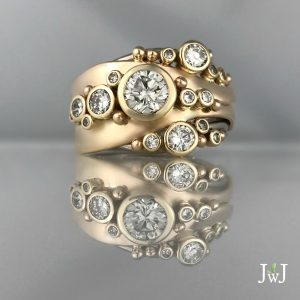 Since heirloom jewellery often carries precious memories and emotions, it's such an honour to listen to your stories and be part of your significant life events. It's what makes our work meaningful. We'll treat your pieces with the utmost respect and care.
When you are ready to discuss design possibilities please fill out the Custom Request Form and upload a photo of your vintage jewellery. We'll get back to you right away. Once the design work has been decided upon, we'll fill you in on how to securely ship your vintage jewellery to our studio.
We'd be honoured to work with you!
"Thank you for creating such a beautiful piece for me. I can't tell you how many times I look down at my hand during the course of a rehearsal and think about how much I love this ring. I receive endless compliments and inquiries about it, and I tell its story with great pride!"
Carrie Anne – NYC
---
Ready to get started on the perfect piece for you?
Click here to fill out our custom request form and/or book a design consultation
---
The Process
Please read the following information then fill out our Custom Request Form to get started on your design journey.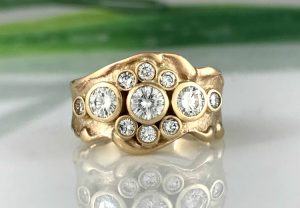 Step 1: Get Inspired
We recommend browsing through our Portfolio of recent work to get a sense of the direction you'd like to take with your bespoke commission. We work within our own creative aesthetic but find inspiration injecting your personality into each custom piece to create something unique for you.
---
Step 2: Photos of your jewellery
Take a photo of the vintage jewellery you'd like to repurpose and incorporate into a new design. We work exclusively with gold and precious gemstones. We won't be able to repurpose your silver or birthstones due to their soft, brittle nature.
Photo tip: Place the gems or jewellery pieces in a row on white paper. We often place them on the edge of a counter or book so we can get in front of the row with my camera. Don't get too close to the items or the pic will be out of focus. We can zoom in on any photo you send to get a closer look. See the image below as an example.


Read the following information then fill out our Custom Jewellery Request Form. You can upload the images of your jewellery onto this form. Once we see the size and shapes of your stones we'll use them to create sketches for you.
---
Step 3: Decide which design service best suits your needs.
1/ Replication: No design fee required.
We'll create an exact replica of an existing JwJ design using your vintage jewellery (gemstones and/or gold). No adjustments or changes will be made. We do not replicate jewellery designed by other jewellers.
Design fees for the following design services are non-refundable but will be applied to the total cost of your order. An email invoice will be sent to you and the design work will get started once your payment has been received.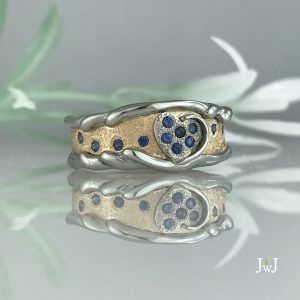 2/ Bespoke One-Of-A-Kind
This enables you to be part of the intimate process of creating a unique Jeanette Walker Jewellery piece for yourself, someone else or with your loved one. Whether you'd like us to source the perfect gemstone for you or repurpose your own sentimental heirloom/vintage jewellery, the result will be a one-of-a-kind, made only for you, with its own special story and meaning.
A one-time design fee of $300 is required to start the design work. We can source the addition of any new gemstones or gold for you if required.
A preliminary series of up to 6 images and quotes will be sent to your email.
It may take a second round of images to arrive at perfection without any extra cost to you.
A final sketch will be sent to you for approval.
You have the option of chatting with us about design possibilities anytime during the design process. The design fee includes a complimentary 1/2 hour Zoom video consultation or phone call.
3/ Customizing An Existing JwJ Design
We'll make adjustments to an existing JwJ design to accommodate your gemstones and precious metal. We can add other gemstones and our own recycled metal if needed and will be reflected in the price quotes.
A one-time design fee of $150 is required to start gemstone sourcing, design sketches and quotes. This fee includes one series of up to 6 design sketches and quotes for you to choose from.
Here is an example of the design work created for a client wanting a "Customized" vintage jewellery redesign. We've created a series of sketches and edited photo images to show the designs we had in mind. Prices are normally listed with each design but not shown here to respect our client's privacy.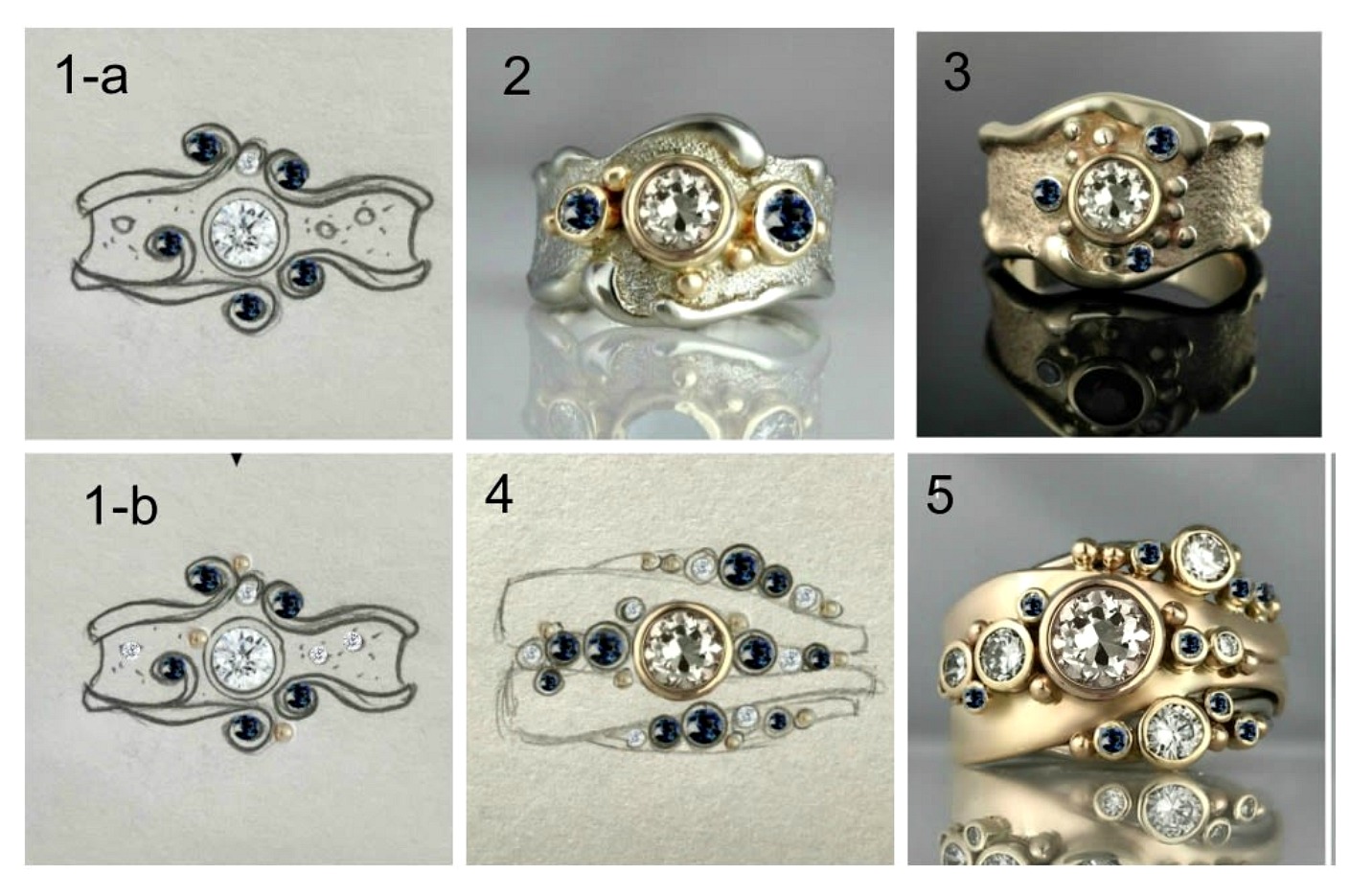 ---
Step 4: Ring Size
Do you need to confirm your ring size?
If you're unable to obtain your ring size from a local jewellery shop we can send you a plastic ring gauge by mail anywhere in Canada or the US. We'll ship by regular mail so depending on where you live in North America it could take from 3 days to 2 weeks to arrive at your location. Tell us your mailing address and we'll send it out to you right away.
---
Step 5: Shipping your jewellery to our studio
Once we've finished the design work and you've selected the final design you can ship your jewellery to our studio. We'll be sending you shipping instructions.
Once we receive and inspect your jewellery we'll send you an email with images and descriptions showing the weight of your gold and the condition of your gemstones before we deconstruct your pieces.
---
Step 6
A deposit of 1/2 is required to start the making of your piece. An invoice is emailed to you and payment can be made by transfer or credit card.
We'll create a wax model for your design to suit the size and shape of your gemstones. A video will be sent to you so you can look it over and give your approval before the gold version is cast. If you'd like any changes made we can easily make the adjustments at this stage.
Here are examples of  Custom One-Of-A-Kind wax models and the finished pieces.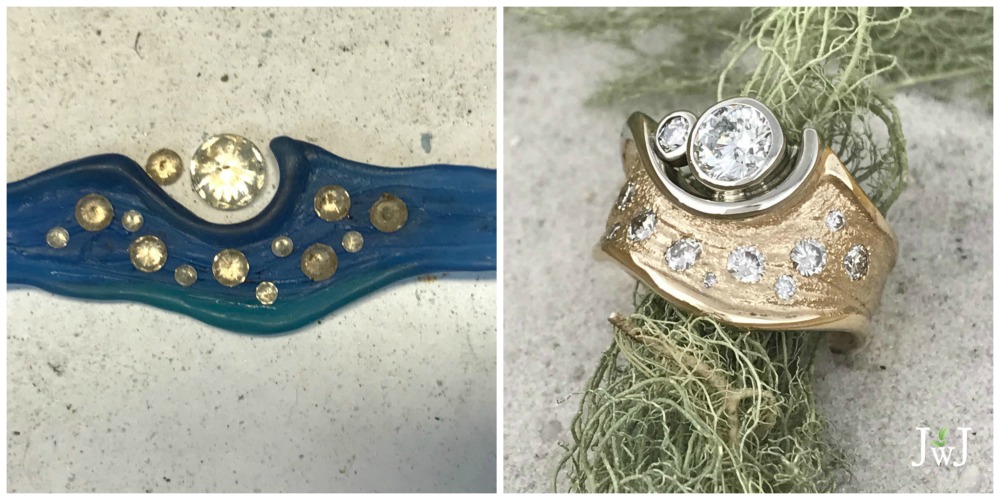 ---
Step 7
Once your jewellery item has been completed and it's ready for shipping we'll send you images and/or a video for you to view. Upon your approval, we'll send you an email invoice. Your jewellery will be shipped once the final payment has been processed.
We'll send you the tracking info then check-in with you once you receive your jewellery.
---
Ready to get started on your design journey with us?
 Click here to fill out our custom request form and/or book a design consultation.
Once we receive your form we'll send you an invoice for the design fee (if applicable) then get started on your personalized design images and quotes. You'll receive them in your inbox within a weeks time.
We look forward to hearing from you!
JwJ Design Team
Jeanette Walker                                            Julie Ann Hughes