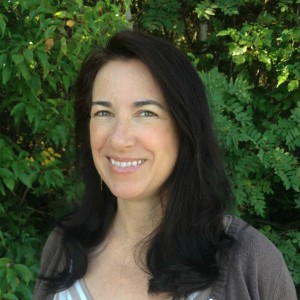 Listening to you is what matters most: your stories, emotions, passions and desires inform the design of every piece.
Your story informs the perfect custom jewellery design for you.
I intuitively translate your thoughts and emotions into a unique, personal, one of a kind custom jewellery design, suitable for your lifestyle.
My philosophy honours the past, present and future.
I often repurpose client's heirloom jewellery. Recycling your gold and gemstones is a beautiful eco-sustainable way to honour your past and give your old jewellery new life. Your newly created piece is imbued with a highly personalized history and meaning. Being kind to the Earth and its creatures are important to me.
"Thank you for creating such a beautiful design. I can't tell you how many times I look down at my hand during rehearsals and think about how much I love this ring. I receive endless compliments and I tell its story with pride".
Carrie Ann – NYC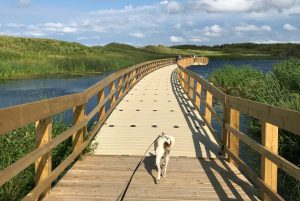 Inspired by nature and the ancients.
My studio is within view of the ocean on beautiful Prince Edward Island, Canada. I walk the beach daily with my dog, where the sound, smell and beauty of the landscape lifts my spirit and feeds my soul. I'm fascinated with the idea of stumbling upon hidden treasures and unearthing ancient relics. Beachcombing is my favourite daily pastime. We keep slow ancient jewellery techniques alive in our studio, creating organic sand textured ocean-inspired jewellery designs.
"Jewellery made by human hands has personality and soul. From the first pencil sketches to the final polish,
my creations are wrought by hand, eye and heart".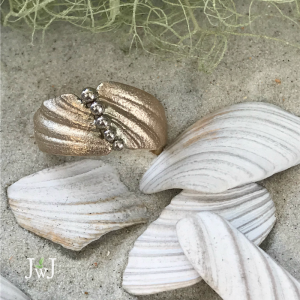 Are you looking for a unique quality design that will…
reflect your core values, personality and style?
hold deep personal meaning or sentiment?
endure the test of time and never go out of style? My pieces are designed to be enjoyed for a lifetime rather than to chase the latest passing trend.
If so, I'd love to work with you and design the perfect piece. To get started just fill out the custom request form and I'll get back to you right away.
I look forward to hearing from you!
"Those who live by the sea can hardly form a single thought of which the sea would not be part."
― Hermann Broch
______________________________________________________________________________________________________________________________
My Story…

Metalsmithing, a Family Tradition

I'm a third-generation Metalsmith…the art of shaping silver, gold and platinum by hand comes naturally to me. Designing custom pieces lets me turn towards people, helping them express their vision and dreams through my art.
How it all began
As a child visiting the sophisticated jewellery atelier of my beloved uncle, I was mesmerized by the fire of the coloured gemstones and the delicacy of his fine jewellery designs. He is an artful master… a talent passed down from my metalsmith grandfather.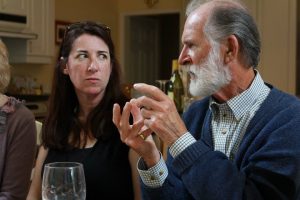 I didn't know at the time that I was next in line…But a playful experiment with modelling clay led me to sculpt some whimsical earrings, which proved popular enough to land me in the Toronto Farmer's Market. Inspired to develop my skills further, I studied Jewellery Arts at George Brown College, graduating with honours in the early '90s.
25 years later, my design aesthetic has changed, but this creative, challenging art form continuously renews and deepens my connections to others.
I live and share a studio with my artist husband, Lindsay Walker, our adorable pooch Gus and cool-cat Pepper. We walk the beach every day, no matter the weather and thrive as artists surrounded by the breathtaking Island landscape of green rolling hills and ocean view.
I live on Prince Edward Island Canada but work with people from all over the world. If you have questions or are interested in getting started on the design process fill out the custom request form and I'll get back to you right away. Let's talk about design possibilities!