It's often the simple quiet moments that create the most beautiful cherished memories of life and love.
I'm so grateful to be a part of my client's special moments. Recently I worked with Bob, a lovely gentleman who was ready to propose. He put a lot of thought and effort into creating a wonderful romantic experience for his love in the sweetest way. His girlfriend Denise lives a simple full life as the owner of a hobby farm, which means working from morning till night every day. She's strong in spirit and body and loves spending her days feeding the animals, tending the gardens and maintaining the property. Denise and Bob enjoy taking breaks and spending time at the beach. On one of these occasions, Denise asked Bob to draw "the perfect day" in the beach sand. He drew stick figures of Denis with her cat and dog beside the farmhouse then asked her if anything was missing and she said: "you are".
The sand drawing was later scooped up and placed it in a container without Denise's knowledge. Bob then came to see me at the studio to discuss engagement ring designs. He described Denise's lifestyle and personality and it was important to design a ring that Denise would love to wear comfortably every day. Since I use the ancient technique of sand casting to form and create the texture on my gold pieces, he asked if I could use his beach sand in the process of making Denise's ring. He shared the story of the sand drawing that took shape on their special day at the beach and I was overjoyed with the thought of incorporating the romantic gesture into the piece.
We created the perfect ring for Denise in 14kt white gold set with her favourite gemstone, amethyst. The pear-shaped gemstone was set low in a white gold bezel frame to keep it safe from the hardships of Denise's daily active life. The sand texture was subtle but added an impactful unique sentiment and meaning to the piece. She happily accepted Bob's proposal and was loved her new ring!!!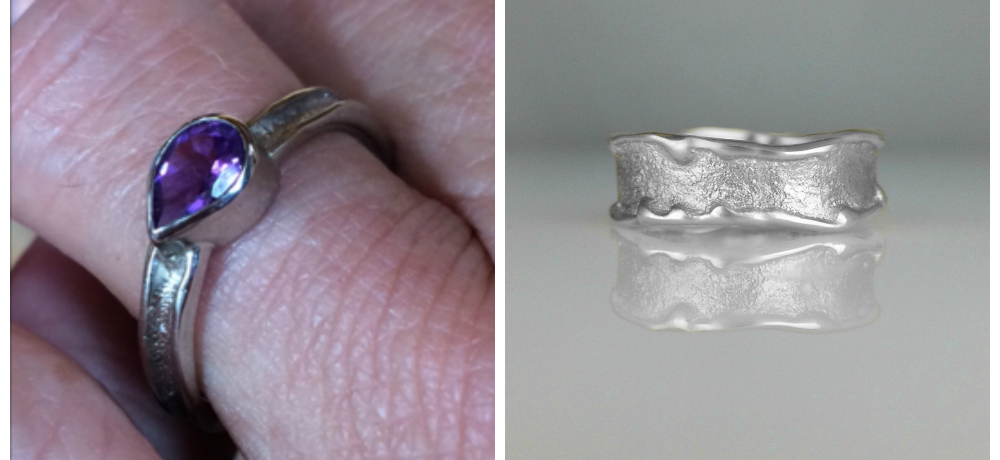 A few months later I used the remainder of the same sand to cast Bob's wedding band. They enjoyed a very simple romantic wedding ceremony and spent the day on the beautiful farm amongst their beloved goat and farm animals. It was their perfect day!!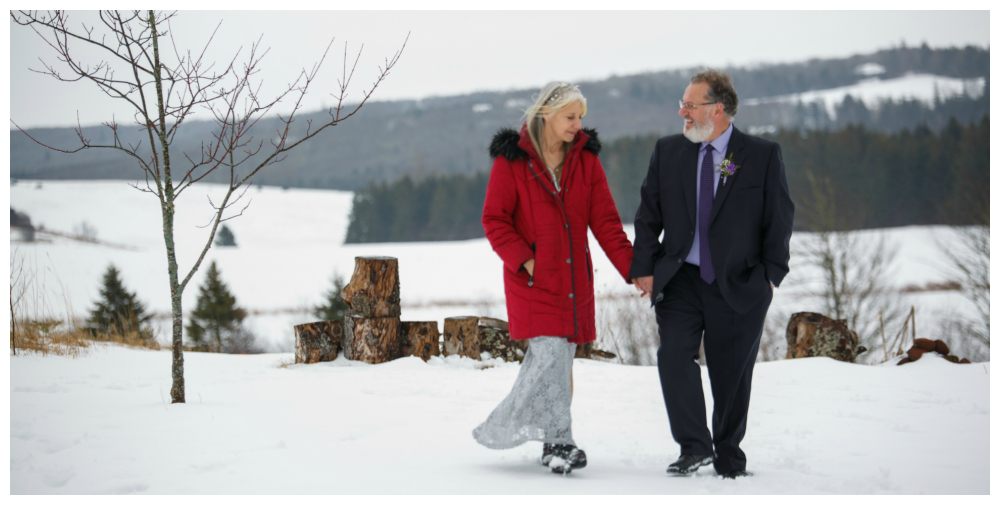 Interested in having a JWJ piece designed especially for you or want to find more info about our Custom Design Process? CLICK HERE! 
I look forward to hearing from you!
Jeanette XO